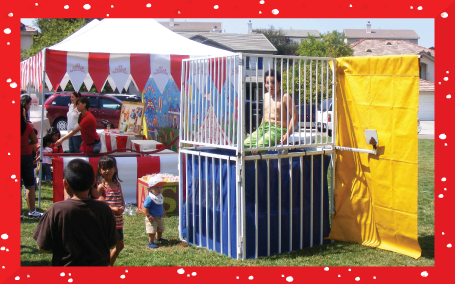 Folding Medium Size Dunk Tank




$135.00

Customer Pick Up / $185.00 Delivery



ASSEMBLY REQUIRED
$185.00 delivered includes set-up and take-away. $135.00 customer pick-up, must have a truck or trailer and pick up then return to our DeSoto store. This Folding Dunk Tank is portable to set up anywhere without requiring a wide gate compared to a regular dunk tank. Requires 300 gallons of water. Includes balls. **Customer must provide a water source with a water hose that will reach into the tank.
Pick-up hours for Saturday rentals are from

8am-12pm/ return Sunday morning from 7am-9am.
Pick-up hours for Sunday rentals are from

11am-1pm/ drop-off Monday morning from 8am-10am.


Customer pick-ups from Monday-Thurs by appointment.
No customer pick-ups for Friday rentals unless it will be a 2-day rental to include Saturday.